cd recording
All in a Garden Green
Oliver Hirsh plays William Byrd on chamber organ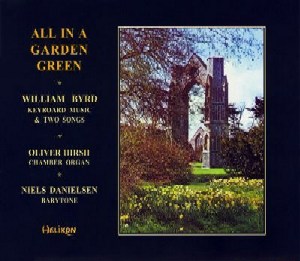 Though understandably celebrated for his sacred vocal works, there is delightful variety and satisfying depth in Byrd's music for keyboard instruments.
The CD includes the masterful sets on Walsingham and O Mistresse Myne, sublime pavans, sprightly galliards, as well as two hitherto unrecorded songs.
The instrument heard throughout is a reconstruction (with hand-pulled bellows) of the unique chamber organ at Knole House in Kent. Most probably built before 1600, it is the earliest English keyboard instrument still playable, and has retained a good amount of its original pipework.
The CD is available at
HELIKON Records
Holtug Mosevej 12
4660 Store Heddinge
Tel. (+45) 56 56 70 05
helikon@helikonrecords.dk
index
|
background
|
concerts
|
workshops
|
cd
|
courses
|
reflections
|
compositions
| M-N Association | contact